Star Cats are one of the features in Bubble Witch 3 Saga. There are four kinds of Star Cats.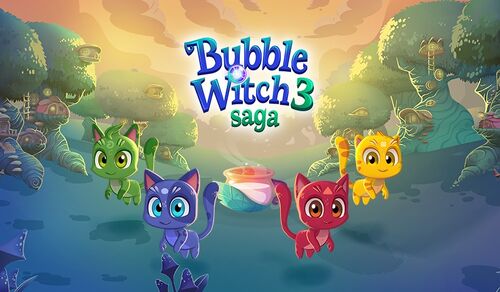 What makes a normal house become a home? Pets! Our purrtastic furry friends. Stella's Home is now invaded by her new friends the Star Cats. They fill the house with joy, selfless love and magic. And of course, a little bit of colorful fur! These lovely magic animals will unconditionally help you and Stella go through the tricky levels to beat Wilbur and save the Fairy Queen from his wicked paws.
There are four kinds, which can obtain by spend Star Dusts during rebuilding Stella's house. For each Star Cat, you need to upgrade five items around your Stella's house.
Ameowzing! Meet the new pets in town:
They will visit all the players above level 51 and help Stella during their stay at her home. Star cats are your new pet buddies that are willing to help you before every level to end up beating Wilbur.
You can find (and even pet) them in Stella's Home front garden. Go visit them and say hello!
How can Star Cats help me?
[
]
To be able to enjoy their company you have to be above Level 51 and having made improvements in Stella's home. Every time you improve an area of the house, you will fill the bar displayed bellow. You need to complete it 3 times in order to get the cats. Did you take care of that front door bench and garden? Make sure you have or the star cats won't visit you!
Every time you upgrade some area in Stella's Home you get a potion, once you reach 5 potions you unlock a cat. They will be magically assigned to you. But don't worry, you will be able to collect all of them! The magical pets can be upgraded. Upgrading the magic beanstalk (unlocked after the house and garden are complete) above the house will continue to give you energy potions and increase the level of the Starcat currently activated at that time, or go in order one cat at a time if none of them are in use/all are asleep.
You can interact with Leo, Eri, Puck and Lyra while visiting Stella's front garden. Go pet some magical soft fur! These magic soft animals will become more powerful as you complete more parts of Stella's Home. You can feed them Energy Potion to increase their powers! They love Energy Potions. They are su-purrr important to improve the Star Cats powers and to wake up the rest of the cats.
Every Star Cat will grant you a different power and advantages. Each of your colorful furry friends is unlocked as you keep progressing in the game.
Star Cats will help you go through the level. They work as pre-game boosters and can only be activated before each try. Star Cats need Star Dust to unleash their powers. Remember that you will have limited time to use that booster! Once finished, they will need to rest to recover their energies.
Once a Star Cat has been activated, the other three will be unavailable to activate until the current Star Cat's booster timer has run out, but will continue to receive rest if they were resting previous to the current Star Cat's booster activation.
Levels
[
]
| | Level 1 | Level 2 | Level 3 | Level 4 | Max Level |
| --- | --- | --- | --- | --- | --- |
| Eri (x Bubble to Orb) | x6 | x7 | x8 | x9 | x10 |
| Lyra (x Fairy) | x3 | x4 | x5 | x6 | x7 |
| Leo (x Star Power Bubble) | x6 | x7 | x8 | x9 | x10 |
| Puck (x Arcane) | x6 | x7 | x8 | x9 | x10 |
Energy Potion
[
]
There are 4 different colors of Energy Potion corresponding with 4 Star Cats:
Green Energy Potion for Eri cat.
Blue Energy Potion for Lyra cat.
Yellow Energy Potion for Leo cat.
Red Energy Potion for Puck cat.
Paw-sible Full Names Fur Them
[
]
These names are not confirmed by the developers, but are rather more formal name suggestions for fans (who like SaranWrap789, possibly wonder "what name would the nickname 'Puck' even be for?!").
Leroy: this french name means "The King". (And for those who think, "Oh Goshness, that would make him The King In Yellow", I assure you, no amount of Morgana's competition will ever corrupt his stubborn cattitude! [Andy'd ask him, Puck, Billy, Nero, & Wilbur to demolish that cursed forbidden playbook!])
Erica: This name form multiple languages means "unique". Besides having a color hue only used for her character in the entire game (even the green bubbles/owls/faries/background pallets are different), Eri's the only StarCat who: does not get her bubbles get placed directly onto the play field, gets woken up by the Fairy Queen for free (after level 50, game gives you free energy potion), and wields a power directly unrelated to boosters [not counting the cluster popper, that's essentially a free Nero/Wilbur Orb), plus her spiral symbol as opposed to the others' closed off shapes (oval, square, and triangle).
Lyrabella: Mirabella means "beautiful viewpoint" in Italian, and Greek Lyres are associated with attracting desired attention (and being easily distractable), so it makes sense that the fairies would be attracted to a cute, sweet, (and possibly a little shy) meow-gical kitten like her.
Punchuck: His explosive power packs just as much of a punch as Nunchucks do! It also ties right into his love of puns, and "criminal mischief" record. (That definitely explains where "Puck" would come from)!
Gallery
[
]